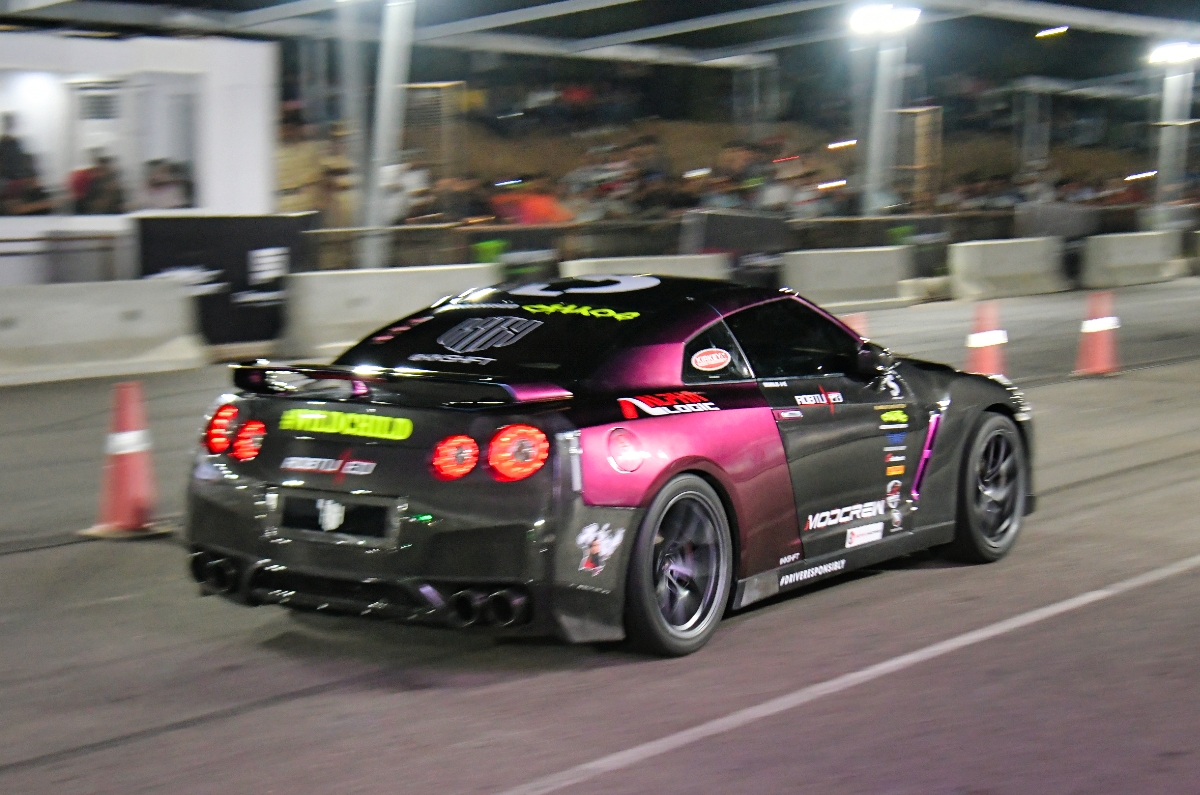 The inaugural edition of the Hyderabad Speed Fest saw the sport of drag racing return to the city after a decade. Over 500 participants showed up to take on the quarter mile run at Narsingi Service Road, with Mohammed Riyaz setting the fastest time of 9.351secs on a Suzuki Hayabusa.
Held as the first night drag race in the city, the Hyderabad Speed Fest served as Round 2 of the Elite Cup. The first round was the Aces of Speed at Hosur, while the finale will take place at this year's Valley Run.
Fastest car: Nissan GT-R (Imran Majid), 9.552secs
Fastest bike: Suzuki Hayabusa (Mohammed Riyaz), 9.351secs
Hyderabad Speed Fest: Fastest cars, bikes
The supercar classes saw a grand turnout, with cars from Mercedes-AMG, Ferrari, Lamborghini, Audi and more in attendance. But familiar names dominated the timesheets.
Just like at the Aces of Speed earlier this year, Imran Majid's tuned Nissan GT-R ended up being the fastest car with a time of 9.552secs. Darshan Saasalu completed the quarter mile run in 11.105secs with his BMW M340i X-Drive to take home the accolade of 'Fastest Indian Car of the Event'. Meanwhile, Uvashri Kannadasan Balajeyanthi was the fastest female driver, setting a time of 12.622secs behind the wheel of a Skoda Octavia vRS.
Over in the bikes classes, the Suzuki Hayabusa tuned by Faheem Zahran once again set the fastest time of the event at 9.351secs. But this time, it was Mohammed Riyaz who was astride the Hayabusa. A Kawasaki Ninja 400 was the fastest Indian bike of the event, with Shahrukh Khan setting a time of 11.707secs. Another repeat winner was Shwetha Chithrode, with a time of 10.437secs on a Suzuki Hayabusa making her the fastest female rider at the Hyderabad Speed Fest.
Rongom Tagore Mukerji, director of Elite Octane (organisers of The Elite Cup) said the strong turnout bids well for the Hyderabad Speed Fest to return for a second edition. "As they say, the first [edition] is always difficult and Hyderabad Speed Fest tested my team on many levels. However, the sheer support from the participants and community kept motivating the team to make it special. With that kind of passion, the end result is always fruitful."
"I thank all who contributed immensely to make this edition a reality and specially the tremendous support from respected visionaries from the Government of Telangana. This was an important edition to showcase the potential of the sport and the positive impact will ensure that we are back to Hyderabad with a mega second edition of Hyderabad Speed Fest – Reloaded very soon."
The inaugural Hyderabad Speed Fest was powered by Monster Energy, Ceramic Pro, Super Select and Safe Tree.
2023 Hyderabad Speed Fest results
2023 Hyderabad Speed Fest results
Prize
Name
Vehicle
Class
Time (secs)
Fastest Indian Car of the Event
Darshan Saasalu
BMW M340i X-Drive
R3
11.105
Best Tuner - Indian Car
Harmonix
BMW M340i X-Drive
R3
11.105
Fastest Foreign Car of the Event
Imran Majid
Nissan GT-R
N
9.552
Best Tuner - Foreign Car
Kik Shift/Alpha Logic
Nissan GT-R
N
9.552
Fastest Car - Diesel
Presly Chakrothvalappil Fernandez
BMW 530d
L6
13.134
Best Tuner - Diesel Car
TuneOfTronics
BMW 530d
L6
13.134
Fastest Foreign Bike of the Event
Mohammed Riyaz
Suzuki Hayabusa
E3
9.351
Best Tuner - Foreign Bike
Faheem Zahran
Suzuki Hayabusa
E3
9.351
Fastest Indian Bike of the Event
Shahrukh Khan
Kawasaki Ninja 400
C4
11.707
Best Tuner - Indian Bike
Mantra Racing
Kawasaki Ninja 400
C4
11.707
Fastest Rider (Foreign Bike) - Female
Shweta Chithrode
Suzuki Hayabusa
D2
10.437
Fastest Driver (Indian Car) - Female
Uvashri Kannadasan Balajeyanthi
Skoda Octavia vRS
R1
12.622
Also see:
Aces of Speed: Suzuki Hayabusa, Nissan GT-R set fastest times